Manual toothbrush
Shape of toothbrush head
A toothbrush with any kind of brush head cleans teeth effectively. However, the size of the brush head should be considered according to the size of the oral cavity:
Bristle pattern
In fact, any of the above brush head designs can effectively clean the teeth when used correctly. Nonetheless, the bristles must be soft. Thus, you can choose according to your personal preference.
Handle design
None of the handle designs possesses superior tooth cleaning effect. You may make your choices according to your personal preference.
Superbrush
Function
It is designed to simultaneously clean the outer, inner and chewing surfaces of teeth.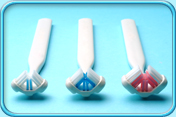 Toothbrush head design
Three brush heads are combined together in the Superbrush. When the brush is placed on the chewing surface, all the three surfaces of the tooth are cleaned simultaneously. It shortens the brushing time.
Is Superbrush suitable for you?
User should have well aligned teeth.
It is suitable for parents and caregivers to assist brushing for the children or disabled, or for those whose manual dexterity is inadequate.
The choice of toothbrush is a matter of personal preference. If you are interested in using the Superbrush, you can try it.