Laminate Veneer
Laminate veneer is a technique that involves bonding of a veneer onto the tooth surface by cement. It requires just very little removal of tooth surface structure.
Purpose
To improve the esthetics of teeth, such as shape, size and colour.
To close up space between teeth.
To cover discoloured teeth.
To restore the strength of teeth.
Application
Outer surface of the front teeth.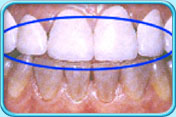 Material
Procedures